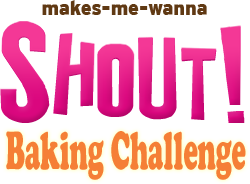 Makes-Me-Wanna SHOUT! Baking Challenge is bringing restaurants, bakers, and people into a community around food.
Everyone can have their cake, pie–or any favorite signature dessert–and eat it too. Local home bakers prove that the art of and love for baking good cakes and pies from scratch is not just a thing of the past.  A restaurant gets a best selling dessert.  A local non-profit gets support and attention for the programs and services they provide that bring comfort to people in crisis.  A winning baker's  story  goes viral.  Everybody wins!
[slide][/slide]
In 2011 the Michon Boston Group Ltd's Church Lady Cake Diaries digital media project launched the Makes-Me-Wanna SHOUT! Coconut Cake Challenge, the first amateur baking contest in the Washington metro area to feature its winning cake on the menu of an acclaimed restaurant, Eatonville Restaurant (co-presenter of the challenge).
Our grand prize winner, Decoyise Brown, a downtown law firm receptionist from Wal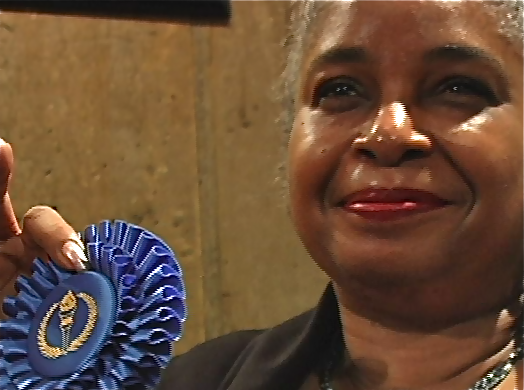 dorf, MD would not have entered the contest had it not been for her best friend who picked up an entry form with the full belief that Decoyise had the winning cake.  Decoyise won the taste buds of the public tasters at the semifinals held at Miriam's Kitchen (the 2011 beneficiary), and the official judges in the final five round. Decoyise's coconut cake recipe was published in The Washington Post (which was noted by a The New York Times dining blooger), and is now included in The Washington Post Cookbook (published 2013). Among the official judges for the contest were James Beard Award winner Joan Nathan, cookbook author Brenda Rhodes Miller, "Capital Cooking" host Lauren DeSantis, and Eatonville Restaurant owner Andy Shallal, Miriam's Kitchen executive director Scott Schenkelberg, and Chef Garrett Fleming (current executive chef at The Pig).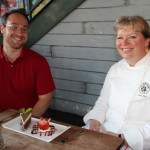 In 2012, green energy analysit Austin Brown's Chocolate Trio Cake took the Blue Ribbon at for the 2012 Makes-Me-Wanna SHOUT! Chocolate Layer Cake Challenge.  Judges for the 2012 baking challenge included Lisa Yockelson (Baking Style:  Art Craft Recipes) and Pamela Hess (Flavor Magazine), King Arthur Flour Chef Susan Reid, WUSA9's J.C. Hayward, restaurant consultant Janet Cam, and returning judges, Andy Shallal, Brenda Rhodes Miller, and Joan Nathan.  They were joined by 2011 winner Decoyise Brown and Lindsey Buss, executive director for Martha's Table.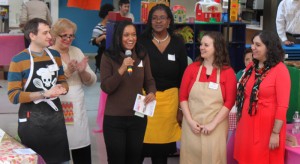 2013 was the first Pie Baking Challenge. Pie is Eatonville's Andy Shallal's favorite dessert. He and other pie lovers looked forward to sampling traditional favorites: apple, sweet potato, berry pies, and new twists or additions to the pie makers' plate. At the semifinals Meredith Newmark's Triple Crust Cast-Iron Apple Skillet Pie took the "People's Choice" award – most votes by attendees and confirmed by the judges. However, at the Final Five, the surprise winner was an Old-Fashioned Vinegar Pie submitted by Annalee Ash of Washington, DC. This lost "farmer's pie" is a sweet treat that is so simple because of its ingredients which can be found in any cook's pantry. Annalee's meticulous approach to the preparation of the pie impressed the judges and won Annalee the Blue Ribbon. Judges for the 2013 baking challenge were Andy Shallal, Brenda Rhodes Miller, Joan Nathan, J.C. Hayward, Rebecca Layton Gunther (operation: eatery), Demetri Recachinas (Martha's Table), Mary Kong-DeVito (Girl Meets Food), Liz Elkind (Food-shed Magazine), and Austin Brown (2012 Chocolate Layer Cake Baking Challenge winner).
The Makes-Me-Wanna SHOUT! Baking Challenge aims to extend its mission to building community around food. Let us know if you have a baking story that needs to be told about your community or region – contest[at]bakingchallenge[dot]com.