"We stopped at Heller's every Sunday morning to be greeted by the smiling Mrs. Heller, who never seemed to mind how long it took us to choose from the doughnuts, buns, cakes, breads and rolls of seemingly endless variety in the glass display cases."
Elizabeth S. Clare, 1988, The Washington Post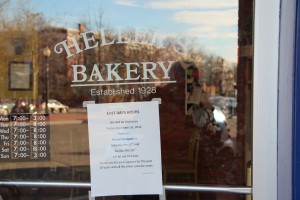 Oh, those rum flavored wedding cakes, donuts. As literary historian Kim Roberts said this morning, "Heller's served the working classes" of Washington, DC. Maybe the recent owners did get behind in the rent because they kept their prices lower than the artisanal bakers and bakeries dotting the city. Heller's was founded in 1928 by brothers Ludwig, August, and Louie Heller, German immigrants who made cakes, pies, pastries and German bread for the bake shop. Ownership changed hands over the years. Some of the favorite baked goods were the rum flavored wedding cakes, biscuits, and donuts. Today, donuts and turnovers were baking in the back as customers were paying their last visits.