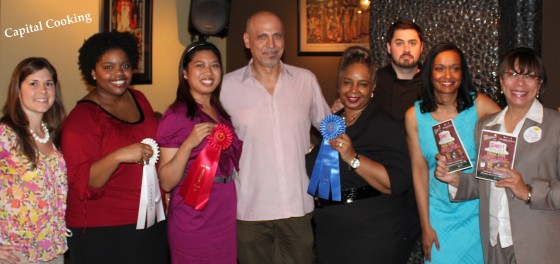 Last year the Makes-Me-Wanna SHOUT! Baking Challenge was a proud sponsor of the DC State Fair. This year, Christine Perez, 2nd prize winner of the first baking challenge (for coconut cake) has joined the board of the DC State Fair. Let's go back to 2011 when Christine entered her Coconut Cake with Pineapple, Bananas, Toasted Coconut, and Sugared Pecans.
My mother always insisted that she could do better than store-bought cake, and one day she did. She used to always bake a "hummingbird" cake for work parties. One day she took the cake and coated it in shredded coconut. I was lucky enough to deserve a "test slice" before she took it to work. After that taste, I went from being a kid who hated the taste of an Almond Joy bar, to a coconut lover.
Christine Perez, Washington, DC
Christine gave us permission to reprint the recipe she submitted. For more information about the DC State Fair, visit dcstatefair.wordpress.com.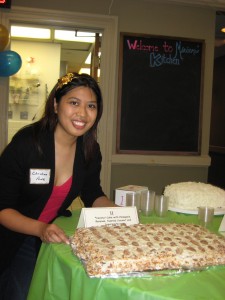 Coconut Cake with Pineapple, Bananas, Toasted Coconut, and Sugared Pecans
CAKE
3 cups cake flour
2 cups granulated sugar
1 tsp. baking soda
1 tsp. cinnamon
½ tsp. salt
¾ cups vegetable oil
3 large eggs
1 18-ounce can crushed pineapple
2 ripe bananas, mashed
1 cup shredded coconut
2 tsp. vanilla extract
½ tsp. almond extract
ICING/FILLING
2 8 oz. packages cream cheese
1 stick unsalted butter
4 Tbsp. sour cream
2 Tbsp. vanilla extract
32 ounces powdered sugar (may need more or less)
¼ cup shredded coconut, toasted
SUGARED PECANS
1 egg white
2 tsp. water
½ tsp. salt
2 tsp. cinnamon
½ cup granulated sugar
2 ½ cups pecan halves
Topping: ¾ cup shredded coconut, toasted
Cake: Preheat oven to 350 degrees. In a medium bowl, mix together the dry ingredients (flour, sugar, baking soda, cinnamon, salt). Set aside. In a large bowl, beat the eggs and add the vegetable oil. Add the pineapple (with juice), mashed bananas, coconut, and vanilla and almond extracts to the wet ingredients. Add the dry ingredients to the wet ingredients gradually, stirring after each addition. Batter will be thick. Pour the batter into 2 greased pans lined with a circle of parchment paper. Spread the batter and drop the pans against the counter to remove air bubbles. Bake for 30 minutes or until a toothpick comes out clean.
Prepare icing and topping while cakes cool.
Icing: Bring cream cheese and butter to room temperature. Beat together with a hand mixer until smooth and fluffy. Mix in sour cream and vanilla extract. Gradually beat in powdered sugar until icing is desired consistency. Refrigerate until ready to assemble cake. Reserve ¼ of the icing and mix in ¼ cup toasted coconut for filling.
Toppings:
Toasted Coconut: Spread coconut in a medium frying pan and stir over medium heat until coconut is lightly browned Sugared Pecans: Preheat oven to 325 degrees. Beat egg white until stiff peaks form. Mix in water, sugar, salt, and cinnamon until combined. Mix in pecan halves to coat. Spread mixture over a foil lined baking sheet. Bake for 40 minutes or until pecans are dry, stirring every 15 minutes.
Assembly: Cut each cake horizontally to make 4 layers. If the top is rounded, trim off top so that the layers are even. Spread filling in between each cake layer, stacking each layer. Ice cake. Sprinkle toasted coconut on the top of the cake. Press sugared pecans into the side of the cake.