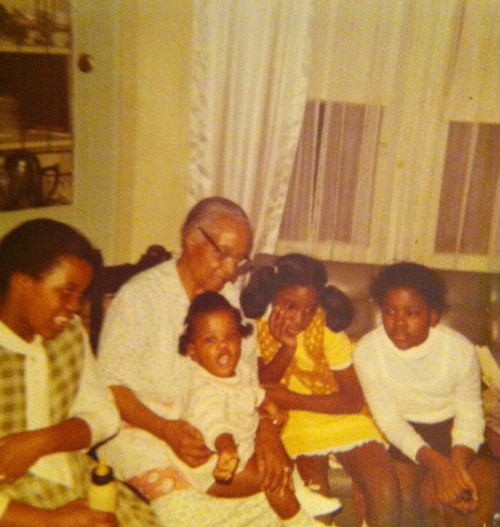 My grandmother knew about baking pies and how to keep a man happy. "Learn to cook well and keep a clean house and you'll be able to keep a man", she'd say.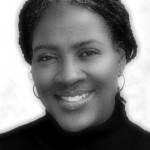 Cheryl Thompson's pie story has all the makings of a contemporary romantic novel: winning a man, losing a man, sweet revenge. That's the story of Cheryl's Nice and Naughty Sweet Potato Pie. Grandmother's advice for keeping a man was turned on its head when Cheryl decided that there comes a time for a sweet kiss "goodbye" to go on the menu.
Together we'd (Cheryl and her grandmother) be up to our elbows in four; the preheating oven banging and ticking; breathing the aroma of reheating drippings from the last time we baked. Since that time there have been lots of request for my pies. Grandma taught me to put love in my cooking. She never told me how I might need to get even with a man who would do me wrong.

After being crossed too many times by my man we agreed to sort things out. For me there was no sorting necessary. I wanted one man, he wanted a harem. That night I made an unforgettable dinner, unbeknownst to him – his last supper, and topped the evening off with my unbelievably decadent and flavorful sweet potato pie, topped with walnuts. We talked and laughed for hours, no yelling. I served each course and when it came to desert he couldn't get enough of my pie and Oh how I enjoyed serving it up. He suddenly noticed that I had packed up the few belongings he had at my house and I gently told him that we were done. I had found my freedom and he had tasted my sweet revenge, for the last time. Like the proverb says, 'revenge is a dish best served cold" – just like my pie.
Cheryl's Nice and Naughty Sweet Potato Pie was our 3rd Place winner in the 2013 Makes-Me-Wanna SHOUT! Pie Baking Challenge. The judges were impressed with Cheryl's new approach to an American Southern classic. Her pie story was a hit even with Cheryl's fellow competitors. Whoever the gentleman was, that gingerSNAP crust should've been a clue. Will there be a sequel?
Here's Cheryl's recipe.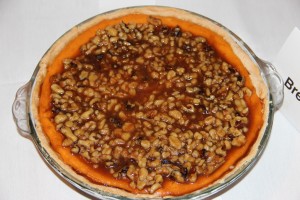 Cheryl's Nice and Naughty Sweet Potato Pie
Crust
1/2 cup gingersnap cookie crumbs
1/2 cup (about 2 ounces) finely chopped (pecans, walnuts or almonds)
8 Tbs unsalted butter, cold
1 1/3 cups + 4 Tbs pastry flour; or 1 1/3 cups + 1 Tbs of sifted all purpose flour.
1/4 tsp salt
2 1/2 to 3 1/2 Tbs ice water
1 1/2 tsp cider vinegar
1/8 tsp baking powder
Preheat oven to 350° F.
Directions – Crust:
Mix flour, salt, and baking powder in a medium bowl making sure it is well blended.
Using two butter knives cut in 4 Tbs of chilled butter. Once blended and looking like rough sand slowly add half of the ice water and half of the cider vinegar. Continue to cut in the remaining butter slowly adding in the remainder of the water and vinegar. Place the piecrust mixture into a sturdy plastic bag (large freezer bag) and place in the refrigerator for up to 20 minutes.
Once well chilled and firm remove crust from the refrigerator and begin to knead it with your hands/knuckles. Once the crust has been kneaded well and is smooth, form a ball inside the bag.
With a sheet of wax or parchment paper open on the counter place the ball of crust in the center of the paper. Place an additional sheet of wax paper on top of the crust and begin to roll it into a large and flat round using a rolling pin. Once the piecrust has been rolled to a 9 – 10 inch circle lift the top sheet of wax paper and sprinkle evenly with both gingersnap crumbs and crushed walnuts. With your fingers, work the crumbs into the pastry dough. Gently begin to peel the piecrust away from the bottom wax paper and slide the crust crumb/nut side up into a 9" very deep-dish pie pan. Place the crust into the oven for 8 minutes – until light golden brown. Remove and let cool.
Sweet Potato Filling:
1/2 cup packed brown sugar
1/4 cup water
2 Tbs unsalted butter
1/2 tsp orange zest, finely grated
1/2 tsp vanilla extract
1 ½ cups walnuts
Combine the brown sugar, water, butter, and orange zest in a small saucepan set over medium high heat. Bring to a boil, reduce heat to medium, and simmer for 10 minutes, or until the mixture has reached the consistency of syrup. Remove from heat, stir in the vanilla until combined, add the walnuts. Allow to cool for about 20 minutes before drizzling over the cooled pie.
Bake until filling is set, about 45 – 55 minutes. Cool. Cut into wedges. Best served chilled.