When the Makes-Me-Wanna SHOUT! Baking Challenge launched the Chocolate Layer Cake contest in 2012, we were absolutely, positively certain some fantastic baker would submit his/her family's favorite German Chocolate Cake. Well, that didn't happen.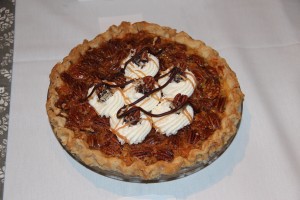 Imagine our surprise when we received Maureen Severin's entry for her "German Chocolate Pie." It's like the old saying: "You may get what you want but not in the package you imagined." Maureen's pie and pie story are rooted in the German Chocolate tradition – caramel, coconut, chocolate, pecans. It's definitely a pie for the holiday table.
Just a little backdrop on German Chocolate — the cake or pie has no connection to Germany, but a direct connection to a man named Sam German, an American who developed a sweet baking chocolate for the Baker's Chocolate Company in 1852. The company named the chocolate in his honor. The first recipe for a German Chocolate Cake appeared in 1957 from a homemaker in Dallas, Texas.
When talking with Maureen, a homemaker from Crofton, MD, and seeing her pies at both the semifinals and final five, you know she's a serious baker inspired by her memories and adventures in the kitchen. She also learns from her baking experiences. You get that impression not just from her pie story, but her "Fool Proof" pie crust recipe too.
Maureen's German Chocolate Pie is one of those desserts that can stand on its own. Or if you're leaving a slice for Santa, be sure to include a tall cold glass of milk.
Maureen's Pie Story and recipe below:
I remember when I was little "helping" my mom make pies around the holidays. She would let me measure the ingredients and make "pie cookies" by sprinkling cinnamon and sugar on top of pie scraps and baking them. The first pie I made by myself was a lemon meringue pie. However, I managed to ruin it by placing the finished pie on the stove that I didn't know was turned on. The glass pie pan shattered and my pie was dangerously inedible. Lesson learned!

For this pie, my inspiration started with one of my favorite cake flavors, German Chocolate Cake. Who doesn't love rich, smooth milk chocolate and sticky sweet, tender coconut? Enrobed in caramel filling topped with crunchy pecans, this pie is decadence in a bite. I love this pie because it looks and tastes impressive but it is easy to make. It's also a unique flavor, a great departure from your everyday apple or pumpkin pie. 
I'd say its rich enough for just one slice, but I find myself sneaking stealthily back to the kitchen to sneak another piece every time I make it.

When I bring this pie to dinner, I rarely bring home any leftovers, and we all know the ultimate compliment to a pie baker is an empty pie plate. That, and maybe volunteering to do the dishes!
GERMAN CHOCOLATE PIE
Ingredients:
1 unbaked Pie Crust*
4 large eggs
3/4 cup sugar
1/2 tsp salt
1 & 1/2 cups light corn syrup
1 cup sweetened coconut flakes
1 Tbs butter, melted
1 tsp vanilla
3/4 cup milk chocolate chips
1 cup Pecan halves
1. Preheat oven to 400 Degrees F

2. Prepare pie shell in 9 inch glass pie pan

3. Beat the eggs lightly and add the sugar, salt, corn syrup, coconut flakes, cooled butter, and vanilla; stir until mixed well

4. Spread the chocolate chips on the bottom crust and cover with the egg mixture. Sprinkle pecan halves on top and push halves down to ensure they are covered by the egg mixture.

5. Place in the oven and immediately reduce the heat to 350 Degrees F

6. Bake for 50 to 60 minutes or until the mixture is firm in the center

7. Cool before serving

8. Enjoy!
Fool Proof Pie Crust* (makes 4 single pie crusts)
Ingredients
4 cups flour – Lightly spooned into a cup
1 Tbs sugar
2 tsp salt
1 & 3/4 cups shortening
1/2 cup cold water
1 Tbs white vinegar
1 large egg
Instructions:
1. Combine flour, sugar and salt in large bowl
2. Cut in shortening using hands or pastry cutter.
3. In a small bowl, mix vinegar, water, and the egg, until well combined
4. Make a well at center of large bowl and pour wet ingredients into the bowl. Mix until just combined.
5. Divide into 4 balls and wrap each in plastic wrap.
6. Chill for 30 min.